Characters
in order of appearance
Cupid


Age: Unknown
Gender: Male
Personality: Seemingly childish in behavior, easily amused and quite the klutz. One wonders how he ever made it to his position. Either way he has a very kind heart in general. Dislikes wearing his glasses but cannot see very far without them.
Abilities: Wields a gun that equip a variety of bullets with different effects.
Hermes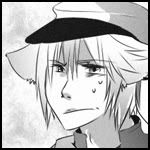 Age: Unknown
Gender: Male
Personality: Known as the messenger of the gods back in the old days Hermes takes his job very seriously, that is.. his new job of babysitting Cupid. Since mobile phones and internet came about no one really needs Hermes to deliver their letters. He's still quite bummed about that although he likes keeping up appearances adopting a very military like attitude.
Abilities: Seems to be able to transform into a variety of creatures at ease.